India's rich historical and cultural legacy is reflected in the myriads of art forms it has. From the grandeur of Mughal paintings to the intricacy of a Madhubani painting, the sheer variety is phenomenal. Allow us to take you through India's top 10 art forms.
1. Madhubani Paintings
This 2500-year-old art form is one of the most popular styles of painting. Famous Madhubani paintings depict social issues and religious tales which is why they are relevant even today. The Madhubani district of Bihar is home to famous Madhubani arts that are exported all over the world. Also known as Mithila painting, the use of auspicious symbols and motifs makes this art form very desirable for decorating your home to attract positive energy.
2. Pichwai Paintings
Pichwai art gets its name from elaborate wall hangings placed behind the deities at Rajasthan's Nathdwara temple where this art form originated. Hence, some of the most famous Pichwai paintings come from this region. Pichwai art is an ode to Srinathji, an avatar of Lord Krishna. It is characterized by the use of bright symbols like lotus, peacocks, cows and scenes of Rasleela. This makes people search for Pichwai painting online even more, as each of these motifs has its unique charm and significance.
3. Pattachitra Paintings
Raghurajpur village in Orissa is renowned for famous Pattachitra arts. These families have been creating Pattachitra art since centuries and this legacy is evident in the beauty and high quality of their products. Some of the most famous Pattachitra painting are sourced from Raghurajpur. Originally used to replace the deities of Jagannath temple for a 15-day period, Pattachitra art paintings have now become an integral part of Indian folk art.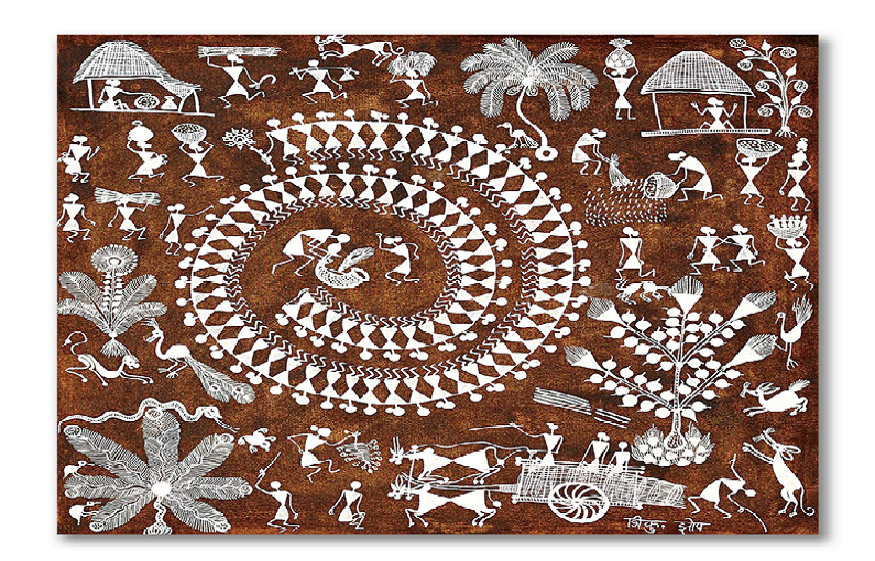 4. Warli paintings
Warli is derived from the word 'warla' which translates to 'field' or 'a piece of land'. It is created mostly by the Warli tribe of Maharashtra. This art form uses geometric shapes like triangles, circles and squares to depict different aspects of life. Circles are used to symbolize the sun and moon while triangles represent mountains and trees, humans and animals. Warli paintings were traditionally made on brown mud walls but around the 1970s, they started shifting towards paper canvases, gaining even more popularity.
5. Kalighat paintings
Originated in the Kalighat area of Bengal, Kalighat painting evolved as a simpler form of Pattachitra. Famous Kalighat arts were mostly sold as souvenirs to the British tourists and officers visiting India. They were mostly painted on mill-made paper and unlike Pattachitra, had more empty spaces and lesser characters. Famous Kalighat paintings portrayed Indian gods and goddesses from folktales and religious epics.
6. Gond paintings
This art form was pioneered by the Gond tribe of Madhya Pradesh. The word Gond is derived from 'Kond' which emans green mountains and the people of this community are called Gondis since they mostly inhabited the green mountains of Madhya Pradesh. Famous Gond arts are created by using repetitive patterns like dots, lines, geometrical shapes, fish scales, etc. This creates a sense of movement in the painting and makes the canvas even more alluring. Famous Gond paintings depict flora, fauna, myths, legends and religious deities.
7. Rajasthani Paintings
Also commonly known as Rajasthani miniature painting, this art form has found immense popularity due to its bright colours and detailed brushwork. Rajasthani painting displays great diversity in themes that range from religious and political scenes to landscapes. Bright colours and gold detailing was used for a touch of royalty. These little details make Rajasthani miniature painting one of the most regal and sought after art forms.
8. Mughal Paintings
Mughal art dates back to Humayun's reign when he invited two Persian artists to India. This art form flourished under the patronage of Mughal emperors who would commission a lot of works or become the artists' muse for paintings. Mughal miniature paintings were generally secular, depicting scenes from the emperor's court, landscapes and festivals. All of them had a touch of royalty since the subjects were mostly from royal Mughal courts.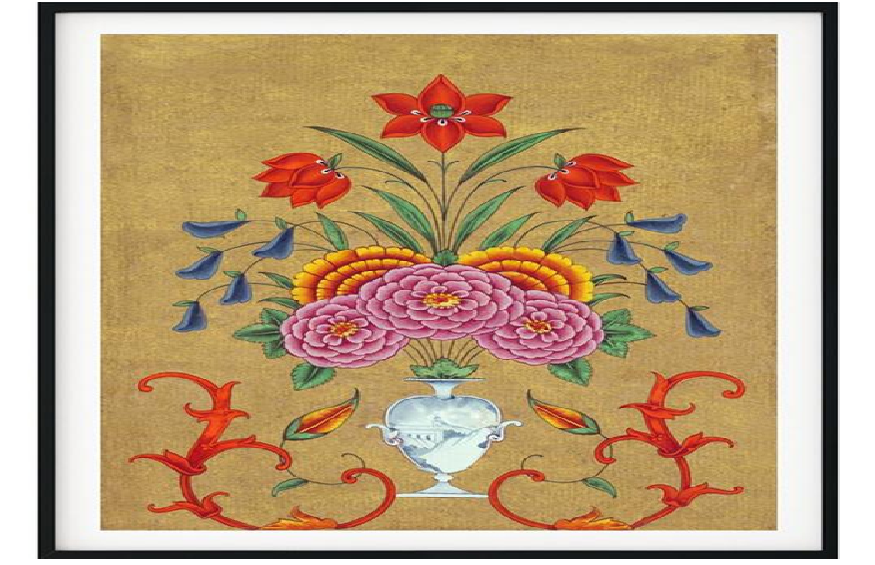 9. Phad
Creating a Phad painting may take time but the end result is truly satisfying. A coarse cotton cloth is soaked overnight to strengthen the threads and turned into a sturdy canvas by thickening it with starch and sun-drying it. Once rubbed with a moonstone, it becomes smooth and ready to be used as a canvas. Since Phad paintings were used to narrate religious tales, the eyes of deities were added in the end. That's when the painting would come alive and become ready to be worshipped.
10. Tanjore Paintings
What sets apart Thanjavur or Tanjore Paintings at first glance is the glowing sheen of gold foil work. These paintings mostly depict gods, goddesses and hindu relics. The bold colours of figurines are highlighted even further by the use of glass beads, gems and gold embossing technique. This art form originated in the Maratha court of Thanjavur in the 17th century and enjoys great popularity in India, and internationally as well.